If you receive an error when uploading data:  a message displayed
There is (are) 1 error(s) and total 1 forms imported.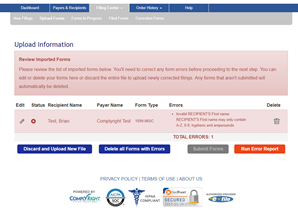 On this page you will see a grid that displays your form information.  In the last column, labeled Errors, you will see where the error is in your template. You can select the 'Edit' button to make any changes to the information within the form.
As an example the error in this template is because the form data was entered on the wrong tab, so you will need to open the excel template, correct the error and then repeat the steps to upload the data file again.
But first, make sure that you delete the current excel file you just uploaded.  You can do this by clicking 'Delete' in the grid where your form is listed, then you can proceed to correct the error in your excel file and then follow the steps to upload the new file. You can also select 'Discard and Upload a New File', this will let you start the process again and take you back to the upload center page.