Click here if you filed original with us.
Please note - dollar amount corrections supported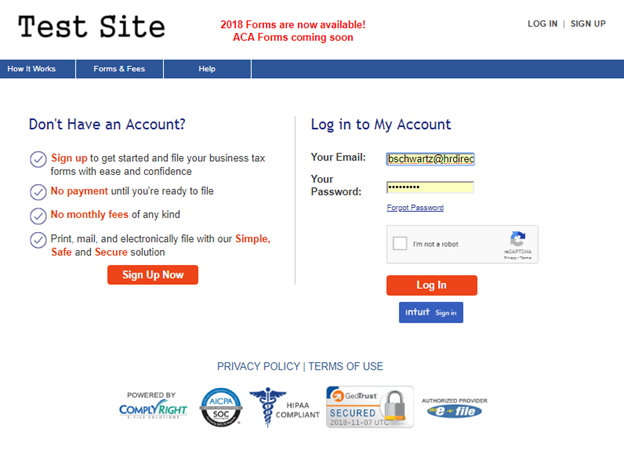 Step 1
Log in to your account.  Enter you email address and password, click that you are not a robot and click the Log In button.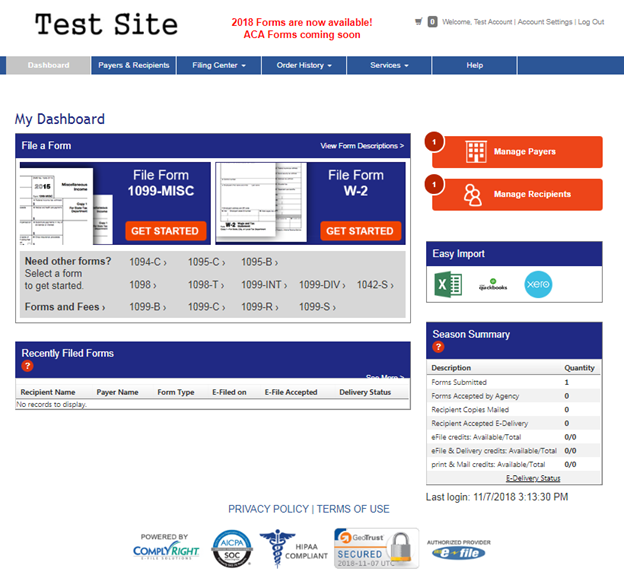 Step 2
Confirm you are on the Dashboard page.
At the top right corner you should see Welcome (your name). You are securely logged in.
 Step 3
On the Navigation Bar, click Filing Center and then Correction Forms.
You are prompted a question "Did you file your original form with our site?".
Click No.
Step 4
You are navigated to the Correction Forms page.  Choose which Correction Form you need to file.
Remember - The only Correction Forms we offer on the site are: 1099-MISC Correction, 1099-DIV Correction, 1099-INT Correction, 1099-S Correction, 1098 Correction, W-2C and ACA correction forms.
Click the File XXXXXXX Correction button for the form you need to file a correction.
Step 5
Fill out your form just as you filled out your original form *make sure all information is entered exactly the same as it was on your original* Just make the change to the amount field(s) you entered incorrectly on your original.
Once all your information and changes have been made you can either:
Click Submit & File More – this action will put your correction form in Unfiled Forms and then pull up a blank  Correction form.
Click Submit & Checkout – this action will put your form in Unfiled Forms and also navigate you to the Unfiled Forms page.
Click Cancel – this action will prompt a question "Are you sure you want to discard changes?".
If you click Ok, it will discard any data entered on the form and navigate you back to the File Correction Forms page.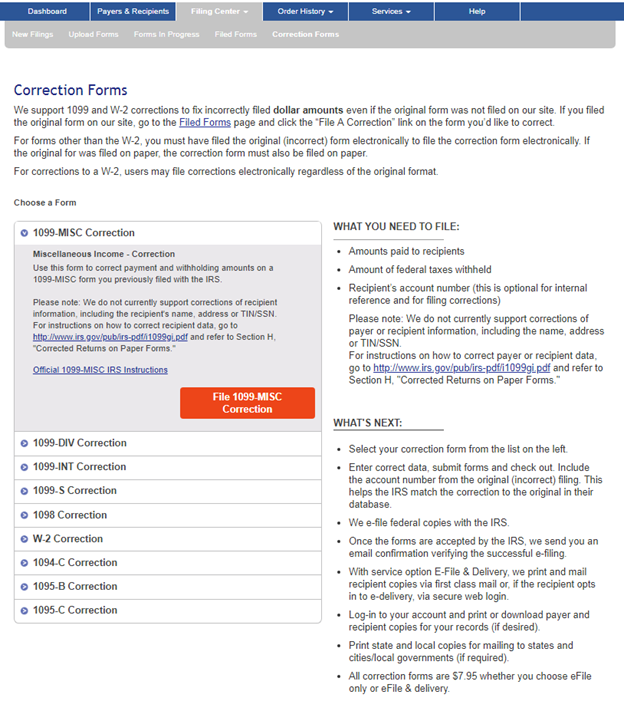 If you click Cancel, it will cancel the action and you will remain on the current form page you are on and will be able to continue your process.
Step 6
Once you have completed filling out your correction form(s) you will need to complete the purchasing process by adding your forms to your Cart.
Choose the form you want to purchase by selecting the box next to the form in the Select All Column on the grid, choose your service option and then click Add to Cart.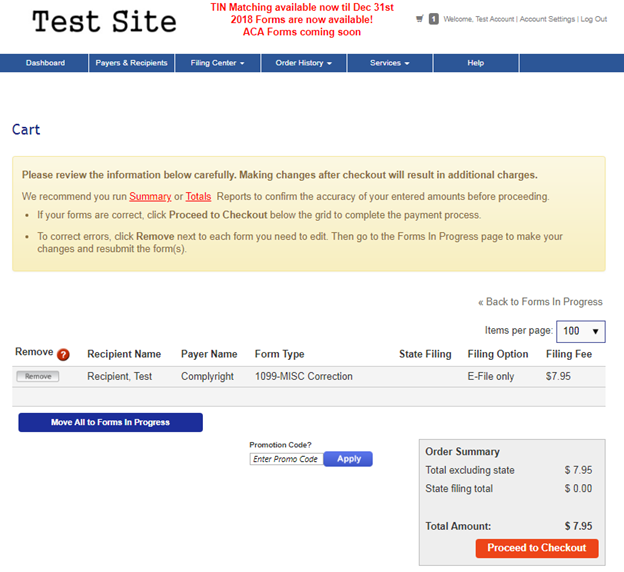 This will place your form in your cart where you can now proceed to checkout to submit and file your correction form.
Step 7
Once you have completed the checkout process on the Filed Forms page you will see your Correction Form listed in the grid. 
Your Correction Form will follow the same process as any other form, allowing you to "Edit Data" until it has been e-filed, then allowing you to "File a Correction" once it has been accepted by the IRS.